What's Hot at the DND Shop - The Latest Trends in DND Merch
The world of Dungeons & Dragons (DND) is vast, mysterious, and full of incredible items that really bring extra fun and depth to the game. The great thing is though, DND players also have access to a range of items that let them either express their fandom and take their love of DND out into the real world, or bring a little extra touch of individuality to the character that they're playing and make their role-playing experience even more thrilling. Even better, as well as buying them for yourself, any of these items would make great DND-themed gifts for the DND fan in your life - so let's take a look at the items you're likely to find at your local DND shop today!
ShopDND is a DND shop centered around clothing and apparel, so it makes sense for us to start there. In our store you'll find a number of base garments and a number of our lovingly-crafted custom DND-themed designs (designs which aren't available anywhere else, you can only get them at ShopDND). All you need to do is pair your choice of design with your choice of garment, and choose from a selection of garment colours for that combination.
You'll find more information on some of our more popular garment styles below, but further information on each individual design can also be had by heading to our store and looking at the individual items there.
DND Themed Hoodies
As the chilly winds start to blow, it's time to cozy up in our DND themed hoodies. Each hoodie is adorned with one of our custom DND designs, and they're perfect for showcasing your love for the game while keeping warm. They are the epitome of comfort and style, making them a must-have in any DND enthusiast's wardrobe.
DND Themed Tees and Long Sleeve Tees
Whether for a casual get-together or an intense DND session, our themed tees and long sleeve tees are the perfect way to express your passion for the Dungeons & Dragons universe. Made from soft, breathable fabrics, they provide the ultimate comfort while also letting you show off your fandom in a unique way!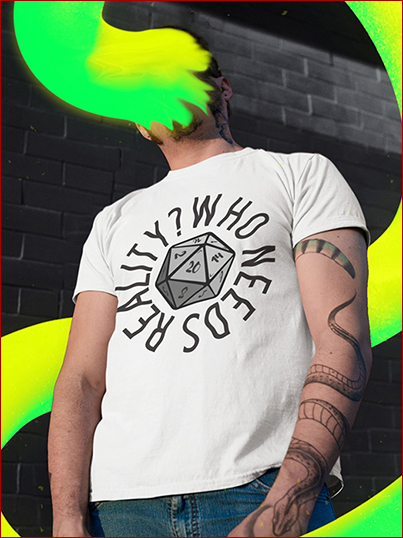 Each DND game is unique and immersive, and these days many DND shop stocks a selection of props that can help bring your characters or stories to life. From ancient scrolls to mystical amulets, these props add an extra layer of realism to your gaming experience. So, why just narrate when you can demonstrate?
Keeping your DND essentials organised has never been easier with our range of DND themed bags. These well-made tote bags are great for DMs - easily holding a foldable DM screen and any game manuals that a player or DM wants to bring to the session, as well as things like spare dice. Each of our bags are once again emblazoned with our own DND artwork, making them both practical stylish, and different from what you might find at another DND shop.
Miniatures are a vital part of any DND game that uses the grid system rather than the 'theatre of the mind' approach, so any good all-round DND shop should stock miniatures as a matter of course. That isn't the case for ShopDND as we focus more on DND apparel, but if you know where to look in other DND shops you will be able to find everything from mighty dragons to brave knights and all kinds of other fantastic creatures that you can use to really bring a grid-based game to life.
No DND adventure can proceed without a set of polyhedral dice, and for that reason most DND shops stock them. In fact, some DND shops even specialise in dice, offering a large selection of different construction materials and visual styles to suit your (or your character's) tastes.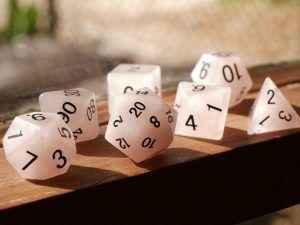 Whether you're a seasoned adventurer or a beginner, a good DND shop can help to bring an extra level of fun to your next campaign. Here at ShopDND we focus on providing quality apparel and superior service, so if you're looking for great DND wearables at a fair price, why not take a look at our store right now.
DND clothing isn't the only thing that can bring a bit of extra personality and fun to the game however, and for those other items there are plenty of online and offline gaming stores that can cater to your needs. In short, whatever you're looking for, it's probably out there - you just need to go on a little real world adventure of your own to find it!