Ultimate Guide to Choosing Your D&D Merchandise from ShopDnD
If you're a passionate Dungeons & Dragons enthusiast, you're undoubtedly on a quest for the perfect D&D merchandise. Enter ShopDnD, your ultimate destination for all things D&D apparel. In this comprehensive guide, we'll delve into the exciting world of D&D merchandise, helping you navigate the enchanting realm of unisex clothing, designs, sizing, and more.
01
Unisex Apparel for All Adventurers
At ShopDnD, inclusivity is our core principle. We proudly offer a diverse collection of unisex apparel that caters to everyone. Whether you're a seasoned Dungeon Master or a newcomer to the world of D&D, our range of products has something for everyone.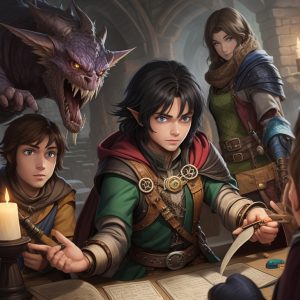 T-Shirts: The classic choice, perfect for everyday wear or gaming sessions with friends.

Long-Sleeve T-Shirts: Ideal for cooler days and adding a layer of style to your D&D adventures.

Sweatshirts: Cosy up in these while rolling your dice and strategizing with your party.

Hoodies: Stay warm and show your love for D&D with these comfortable hoodies.
03
The Art of Selection - D&D Designs
01 ALWAYS HEALING POTIONS
Are you the dedicated healer of your party? Celebrate your role with the "Always Healing Potions" design. It's the perfect in-joke for the essential support character.
02 CRITTOK
If social media and D&D collided, it would look a lot like "Crittok." This design is a playful nod to the ever-popular world of online role-playing.
03 DARKVISION
For those who enjoy the thrill of exploring the unknown, "Darkvision" is your go-to design. It captures the essence of venturing into the mysterious and uncharted.
04 DICE, POTIONS & SAVING
Sometimes, simplicity is key. "Dice, Potions & Saving" embodies the core elements of D&D gameplay in a stylish and straightforward design.
05 DM LIFE
As Dungeon Masters, we didn't choose this life; it chose us. "DM Life" celebrates the dedication and creativity it takes to craft unforgettable adventures.
06 W.M.F.DM
When your party goes off track, and dice rolls test your patience, "W.M.F.DM" lets you express your frustration with a touch of humour.
07 PIXEL HEART
"Pixel Heart" proves that D&D can be cute too. It's a whimsical design that adds a touch of charm to your gaming wardrobe.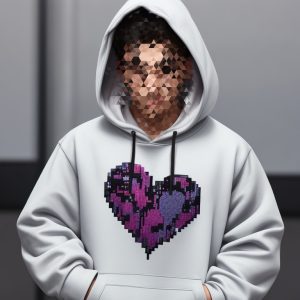 08 WHO NEEDS REALITY
In D&D, imagination knows no bounds. "Who Needs Reality" is a tribute to the limitless possibilities that await in the world of role-playing.
09 NETFL*X & CHILL TOUCH
Casting spells or binge-watching? "Netfl*X & Chill Touch" merges modern comfort with D&D whimsy.
10 D4 TO 100
Counting with dice takes a special skill, and "D4 to 100" showcases your mastery of these arcane tools.
11 WEEKEND PLANS
Weekend plans? Only one thing matters: D&D. Celebrate your devotion with "Weekend Plans," a design that resonates with true adventurers.
12 CRITTER
Better than a homing pigeon, "Critter" captures the essence of a dedicated role-player.
13 I'LL BE BACK
In D&D, death is not the end. "I'll Be Back" reflects the resilience of characters and their ability to return to the action.
14 PLAY DND & WORSHIP SATAN
For a touch of dark humour, "Play DnD & Worship Satan" adds a twist to your D&D-inspired wardrobe.
04
Navigating Sizes - The Key to Comfort
Ensuring the perfect fit is essential for your D&D merchandise. ShopDnD provides a detailed size guide to help you find your ideal measurements. Our sizing options range from Small (S) to 5XL, catering to adventurers of all sizes.
Size Guide (Inches):
S: Length 27, Chest 38 - 41, Sleeve Length 33 ½

M: Length 28, Chest 42 - 45, Sleeve Length 34 ½

L: Length 29, Chest 46 - 49, Sleeve Length 35 ½

XL: Length 30, Chest 50 - 53, Sleeve Length 36 ½

2XL: Length 31, Chest 54 - 57, Sleeve Length 37 ½

3XL: Length 32, Chest 58 - 61, Sleeve Length 38 ½

4XL: Length 33, Chest 62 - 65, Sleeve Length 39 ½

5XL: Length 34, Chest 66 - 69, Sleeve Length 40 ½
Size Guide (cm):
S: Length 68.6, Chest 96.5 - 104.1, Sleeve Length 85.1

M: Length 71.1, Chest 106.7 - 114.3, Sleeve Length 87.6

L: Length 73.7, Chest 116.8 - 124.5, Sleeve Length 90.2

XL: Length 76.2, Chest 127.0 - 134.6, Sleeve Length 92.7

2XL: Length 78.7, Chest 137.2 - 144.8, Sleeve Length 95.3

3XL: Length 81.3, Chest 147.3 - 154.9, Sleeve Length 97.8

4XL: Length 83.8, Chest 157.5 - 165.1, Sleeve Length 100.3

5XL: Length 86.4, Chest 167.6 - 175.3, Sleeve Length 102.9
05
Swift Delivery for Your Quest
When you embark on your shopping quest with ShopDnD, you'll want to know when your treasures will arrive. Here's a glimpse of our delivery times for D&D merchandise:
United Kingdom (UK): 5-7 business days on average.

United States (USA): 3-6 business days on average.

Canada: 4-7 business days on average.
For adventurers located in other regions, simply contact our trusty DM at support@shop-dnd.com for confirmation.
06
Frequently Asked Questions (FAQs)
1. Is ShopDnD's D&D merchandise suitable for both men and women?
Yes, all our D&D merchandise is unisex, providing a comfortable fit for everyone. Our size guide helps you find the perfect size.
2. Can I choose the design and then select the product type?
Absolutely! We encourage you to choose a design you love, and then select the D&D merchandise type, whether it's a T-shirt, hoodie, or any other option.
3. Are there any discounts or promotions available?
Stay tuned for special promotions and discounts by following us on social media. Connect with us on Facebook, Instagram, and TikTok to be the first to know.
ShopDnD invites you to embark on a memorable journey into the world of D&D merchandise. With a diverse range of unisex apparel, captivating designs, and helpful sizing information, your quest for the perfect D&D-themed clothing is bound to be a success. Connect with us on social media, explore our size guide, and set forth on your adventure in style. At ShopDnD, your D&D dreams await. Explore our store, learn more about us, or get in touch with any inquiries.