The Benefits of Shopping D and D Merchandise from ShopDnD
Are you a devoted Dungeons & Dragons (D&D) enthusiast seeking the perfect blend of style and passion for your favourite tabletop role-playing game? Look no further than ShopDnD, your ultimate destination for D and D merchandise. In this article, we delve into the compelling reasons why shopping for D and D merchandise at ShopDnD is an experience
01
Unveiling the World of D and D Merchandise
Dungeons & Dragons is more than just a game; it's a vibrant subculture with a global following. Fans of this iconic game often express their devotion through clothing and accessories that reflect their love for D&D. ShopDnD has harnessed this passion and transformed it into a unique shopping experience.
02
A Design-Centric Approach
ShopDnD sets itself apart by offering a design-centric approach to D and D merchandise. Instead of traditional product-based shopping, you choose from a diverse array of D&D-themed designs. Whether you're a dungeon master or an avid player, there's a design that resonates with your D&D journey.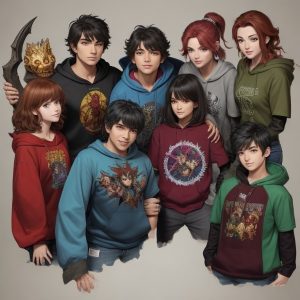 03
Unisex Clothing for All
Inclusivity is at the heart of ShopDnD. All clothing items are designed to be unisex, catering to individuals of every gender. It's not just about celebrating the game; it's about celebrating the diverse community that adores it.
04
Explore a World of Designs
With a multitude of designs, each with its unique theme and humour, you're spoiled for choice. From witty one-liners to intricate artwork, these designs capture the essence of D&D culture. Whether it's a T-shirt, Long Sleeve T-shirt, Sweatshirt, or Hoodie, you can bring your chosen design to life on your preferred apparel.
05
The Size Guide for Perfect Fit
Nothing beats the satisfaction of wearing clothing that fits perfectly. To ensure you get the right size, ShopDnD provides a comprehensive size guide. It's available in both inches and centimetres, making it easy for you to find your ideal fit. Say goodbye to ill-fitting clothing and hello to comfort and style.
ShopDnD simplifies the shopping process:
Choose Your Design: Browse a wide selection of D&D-themed designs.

Select Your Apparel: Pick from T-shirts, Long Sleeve T-shirts, Sweatshirts, or Hoodies.

Pick Your Size & Colour: Refer to the size guide to select the perfect fit.

Add To Cart: Complete your purchase and prepare to show off your D&D pride.
07
Fast and Reliable Delivery
ShopDnD understands that waiting for your D and D merchandise can be agonising. That's why they offer fast and reliable delivery options:
United Kingdom (UK): Your order will arrive in 5-7 business days on average.

United States (USA): Expect delivery in 3-6 business days on average.

Canada: Your

D and D merchandise

will be at your doorstep in 4-7 business days on average.
For customers outside these regions, contact ShopDnD at support@shop-dnd.com for delivery confirmation.
08
FAQs: Your Questions, Answered
Is all D and D merchandise unisex?
Yes, all clothing items at ShopDnD are designed to be unisex, ensuring inclusivity.
What apparel types are available?
You can choose from T-shirts, Long Sleeve T-shirts, Sweatshirts, and Hoodies to bring your selected D&D design to life.
Can I find my perfect fit?
Absolutely! ShopDnD provides a detailed size guide in both inches and centimetres to help you find the ideal fit.
10
About Us and Contact Information
ShopDnD is your go-to destination for D and D merchandise. We're passionate about bringing your love for D&D to life through unique designs and inclusive, unisex clothing. If you have any questions or need assistance, don't hesitate to reach out to us.
Shopping for D and D merchandise at ShopDnD is not just about clothing; it's about celebrating your passion for Dungeons & Dragons. With a focus on design, inclusivity, and fast delivery, ShopDnD offers an exceptional shopping experience for every D&D enthusiast.